Originally referring to the candidate who was listed as coming in first in the Imperial Examinations, the Chinese title "Zhuang Yuan"(状元) is now often given to the top scorer of a province in the National Higher Education Entrance Examination.
As the biggest winners in the examination, they can choose the university and the major. It's easy to understand that the top 2 universities – Peking University and TsingHua University enroll most of the top scorers. But what about the major? Do they want to study mathematics, or philosophy, or politics?
No. In fact, most of the most talented students selected by the examination enter business schools. See the following table.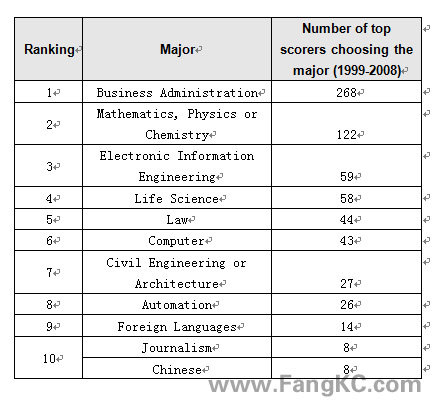 (Translated from the research report by CUAA.net)
So why? Because B-schools are in greater need of talents than other schools? Absolutely no. Because the top scorers happen to coincidentally be interested in business? Impossible.
The real reason for the popularity of B-schools is that students graduated from here can get high-paid jobs easily. It's beyond reproach that anyone can pursue a high-quality life by entering B-school and becoming millionaire soon after graduation. But it becomes absurd and abnormal when almost every one (especially the most talented ones) regards university education as a way to make money in future.
The choices of top scorers reflect that the higher education in this country has lost the spirit of pursuing the truth and undertaking the social responsibility. It has degenerated into job training.
There is another interesting thing related to this phenomenon. Last year I saw a large poster in the canteen in Peking University. It was calling students for a mock interview competition; the winners could get the internship about international finance in Hong Kong. It says:
Here, represents a kind of pursuit.
They are pursuing excellence, pursuing elite,
pursuing famous brand, pursuing high salary, pursuing elegance,
and also, pursuing distinctive.
As you can see, the wording and phrasing are full of mistakes and disgusting. It's really funny that the word "distinctive" is emphasized here. Don't they know that "pursing famous brand and high salary" is in fact the common pursuit of students here?